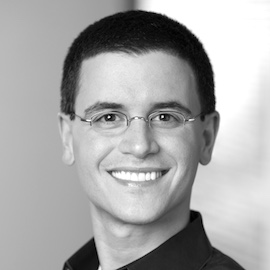 Guy Yalif (USA)
AI & Personalization Demystified
Biography
Guy has a background that is quite impressive. From Princeton to 3 years Boston Consulting Group in the 90's and then on for his MBA at Stanford and MBA internship at Microsoft. Guy did his time at an online marketplace start-up that got acquired before he moved to Yahoo! to have several product marketing positions for 7 years in a row. He has been the head of global product and industry marketing at Twitter and was member of the executive team at Brightroll. Nowadays he is the founder and CEO of a start-up that uses machine learning to optimize websites.
The number 1 outcome of the #CH2019 attendee question on what the hot topics in our industry are for the coming year, was: personalization. AI and Machine Learnings were also high on this list, the combination of these topics is the sweet-spot where we all know of that the companies we work for are going to invest heavenly in the next coming years. But as true data driven optimizers we also know that many companies won't have the users to do proper personalization and/or machine learning. We also believe that they should fix the basics first…
Nevertheless we know we are going to have to deal a lot with personalization and machine learning in our jobs. It may sound scary, because you don't exactly know what it is and how to apply it, but you also know that this is the way to the future (or was McDonald's buying Dynamic Yield a big fail?). But how to take the first steps in a proper way? When I thought of a potential speaker that could demystify AI and personalization for us – I thought of Guy.
Happy learning,
Ton Wesseling
Founder & host of The Conference formerly known as Conversion Hotel
All sessions by Guy Yalif (USA)