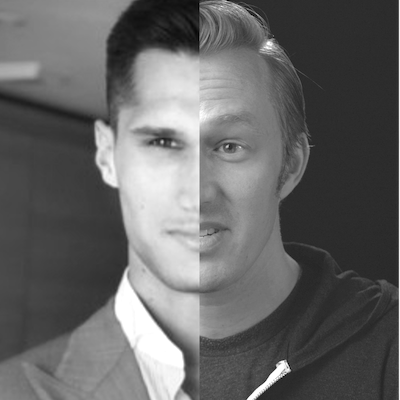 Virtual: Sep. 23, 2021: Experimentation Culture
Alexandre Suon & Guido Jansen
Biography
Experimentation is key. Key in the growth of your organization at all levels. Stefan Thomke, the William Barclay Harding Professor of Business Administration at Harvard Business School, once told me in an interview:
Organizations that don't adopt an experimentation approach for their digital products won't be winning in the future.
It's not about conversion rate optimization, it's about creating and maintaining a culture of experimentation. It has been suggested before that we should change the name of our event to Experimentation Island, the Conference formerly known as Conversion Hotel. Which we have not done yet (we do own the domain names though), but what we will do is making this next Conversion Hotel session a follow up webinar to the Experimentation Culture Awards. This session is exclusively sponsored by: Kameleoon A/B-testing software.
Among the opted-in & live attendees of this session we raffled a ticket to the live 3-day Conversion Hotel event on November 19/20/21, 2021 in the Netherlands. Winner of this ticket is known: see our member area
This webinar is a 1 hour session with:
Guido Jansen: winner of the 2020 Individual Experimentation Culture Award for evangelizing CRO in general and CRO culture in particular with the CRO Cafe Podcast (or maybe he should rename it to the Experimentation Cafe Padcast). I will be doing a Q&A with Guido to make him share the knowledge he collected on setting a successful experimentation culture by interviewing so many managers and specialists.
Alexandre Suon: nominee for the 2021 Individual Experimentation Culture Award for Driving the adoption of A/B testing as a decision-making tool for strategic investments. Alexandre will be presenting on his work for Accor Hotels in France. For many years, the group's experimentation velocity was slow. They ran 2 or 3 tests every quarter. There was no experimentation evangelist or process in place to foster a professional program. However, since taking charge of experimentation in 2020, Alexandre Suon, Accor's experimentation program has leaped forward.
A small panel discussion with Guido, Alexandre and yours truly responding to statements on building a culture of experimentation inside organizations.
Enjoy this session!
Ton Wesseling
Founder & host of The Conference formerly known as Conversion Hotel
Rewatch this session with a virtual #CH ticket:
CLAIM YOUR #CH TICKETS NOW
(or claim a ticket for the real life #CH event!)
All sessions by Virtual: Sep. 23, 2021: Experimentation Culture