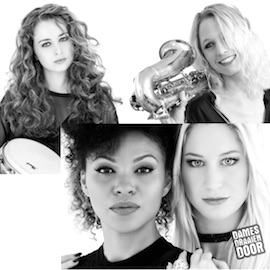 Dames Draaien Door (NL)
DJ, vocals, sax & percussion
Biography
They are back, after a being a huge success on the Friday of #CH2018 where they got a large part of the crowd dancing. I thought I needed to move them to the Saturday night, our final evening at Texel. This is where they can really shine with their 4 our non-stop DJ show. And this is a DJ show that is not just a DJ, but one where a vocalist will be added, where some live sax will be played and where a percussionist gets the energy flowing.
Dames Draaien Door is a collective of ladies with some impressive music background. Like last year we have exactly the same combo – because they loved to be on Texel too: DJ Amica Nova will accompanied by Mavis Acquash as vocalist, Kirsten on Sax and Danique on drums. Let's see how they will get your feet moving on Saturday night.
Have fun, let's party!
Ton Wesseling
Founder & host of The Conference formerly known as Conversion Hotel
All sessions by Dames Draaien Door (NL)